I'm talking about monsters as in the kind that live in your closet and under your bed, not the Complete Monster trope.
I've mentioned before that there are some creatures that are always monsters, that as soon as we see them, we point and cry, "Monster!", and that it can be interesting to mix that up. But the point of a monster, regardless of what the monster actually is, is to be something that is scary. I mean, that's the actual dictionary defini-huh, it's apparently also British for "criticize".
So how do you write a monster? How do you come up with something horrifying? Well, part of the problem with inventing a truly terrifying monster was explained by Stephen King, who ought to know, eh? It's that as long as you show the monster, it's automatically less scary. If you put a 10-foot centipede on the other side of that door, the audience will think, "at least it wasn't a 100-foot centipede". (That's from his book, On Writing. It was really good, I highly recommend it, even if I disagree with his feelings on adjectives.)
For me, I find it a real challenge to come up with stuff that could be truly horrifying in this day and age. I'd rather work off of concepts that are terrifying and not sweat appearances too much – after all, I'm assuming if you're reading this, appearances are hard for you like they are for me. If they're not, you've got it, friend!
When we're working with a book, it's going to be harder to convey appearances anyway. A lot of what's scary is in the details and describing details slows down action significantly, which might be appropriate, or terrible for the scene.
Spiders are scary, to me, because of the way they move, the way they eat, their friggun webs.
Movement, behaviors, and yes, appearances if you can manage it, add to the scare factor. But really, I think the concepts behind the monsters are what are really scary.
So use appearance judiciously, especially because I think it's the smaller half of the battle. Sure, a creepy thing "getting you" is scary all by itself but creatures that do terrifying things are, I think, scarier.
Weeping angels – originally, anyway – capitalized on being lost, away from loved ones, of that concept we have of staring at scary things like spiders so we don't lose track of them, things getting us while not looking…they're pretty scary! Heck, even when they start doing a boring old kill you thing, they were still scary.
You might try starting with a concept. Dementors are pretty scary, right? I've heard Rowling got the idea from depression. Makes sense, this thing that can follow you around, sucks all the happiness from you, makes you remember your worst memories, can steal your soul…chocolate helps defeat it…that's basically what I'd expect of depression in monster form.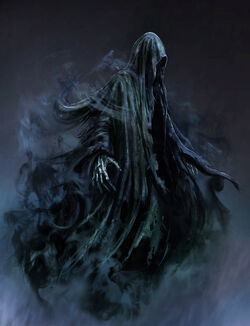 What else is terrifying? Death is usually a good way to go, but I think plain old death is boring. Also I personally don't find it particularly scary as a general concept, but then, fear of death is supposed to be a version of fear of the unknown and I do find that scary, if I'm honest with myself. And I don't want to die before I meet some pretty big goals, like publishing all the books and seeing grandchildren. Lack of fulfillment. That's scary. You know what I don't like, though? Pain. Hate pain. Scary monsters are scary because of the way they'd want to kill me.
When you're making a monster, think of what you find scary and why. Monsters play on fear. And…well, and remember that if you write a monster, it is going to get philosophical whether you want it to or not (unless maybe you're doing a typical slasher). Do take care to consider who, truly, the monster is – if your monster is sufficiently scary, it's going to be a monster, but it still brings up the good old Frankenstein question of who is the REAL monster – because actions are scarier than appearances, because a monster that captures and kills and maims still isn't as scary as a truly cruel person – because in the end, living is harder than dying (so far as we know), way harder, and monsters that kill are only so scary compared to monsters who make living very hard.
How do you write a monster? You can try not to show much, or to show excruciating details. Behaviors and motions, the creepy grin, the chilling laugh, the crawling gait, these are perhaps very important. But actions are probably most important – and most of all, remembering what is truly, truly scary.